Excellent selection of 3 heights and 4 lengths to choose from

An incredible payload capacity of up to 1,900kg

Capable of fuel-efficient performances of up to 41.5mpg combined

Side doors are wide enough to take Euro pallets

Powerful range of efficient BlueHDi diesel engines

Also available in Tipper and Crew cab models
Citroen Relay Latest Offers
Citroen Vans Relay
Take control of the road in a van that screams confidence. The latest Citroen Relay is a large panel van that delivers incredible practicality, quality, and reliability - representing great fleet value. The biggest van by Citroen, there are plenty of configurations to choose, including 3 heights and 4 lengths. For instance, the L1H1 has 8 cubic metres of loading space, while the L4H3 version has 17 cubic metres. Payload capacities can range from 1,115kg to 1,900kg, and the Citroen Relay also comes in Tipper, Crew van, Dropside, and Luton models - with each option sporting a 1,250mm wide side door for Euro pallet loading. What's more, the 1,422mm space between wheel arches means that you can load pallets flat, and enjoy extreme comfort. The H3 options even offer a class-leading height of 2,172, and running costs on the H1L1 are low, with 41.5 combined from the 110 engine.
Relay Features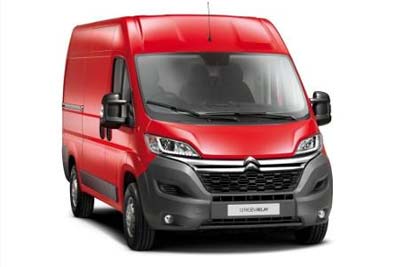 3 Heights and 4 Lengths
With 3 heights and 4 lengths to choose, the Relay really is one of the most versatile vans available, with payload capacities that range from 1,115 kg, all the way to 1,900 kg, and class-leading H3 load heights of 2,172mm.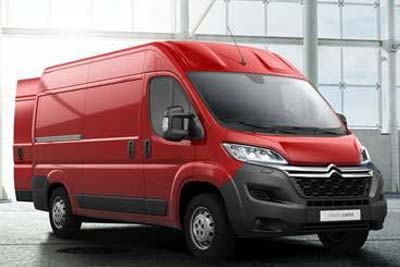 Various Model Options
Design your new Citroen Relay as a panel van, chassis, chassis crew, tipper, or dropside van depending on your needs. With so many options for bodywork, upgrading your fleet has never been easier with Citroen.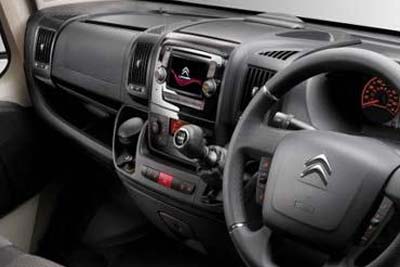 Low CO2 emissions and Fuel Consumption
Available with the latest generation of Citroen's BlueHDi diesel engines, the Relay can return around 41.5mpg combined, and low CO2 emissions of 175 g/km, ideal for top of the range efficiency on the road.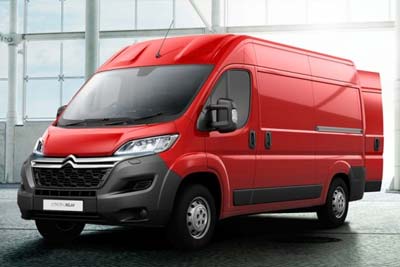 Easy Loading Solutions
Simple, practical, and innovative, the Citroen Relay features large side doors for Euro pallet loading, while the rear doors open up to 90 or 180 degrees. The Relay also has a 1,422mm load bay - one of the largest in the class.
Interior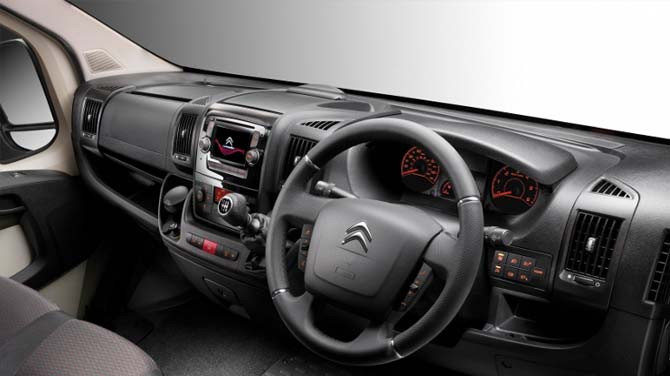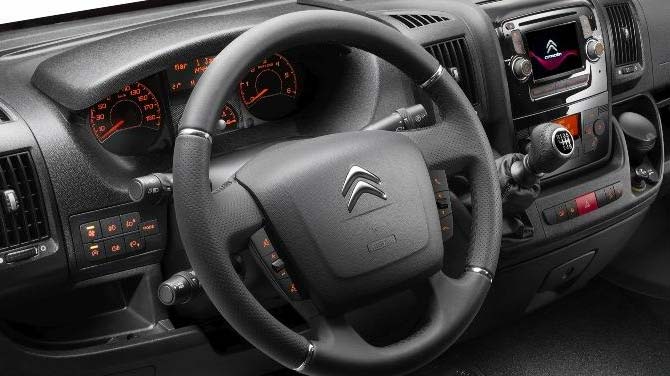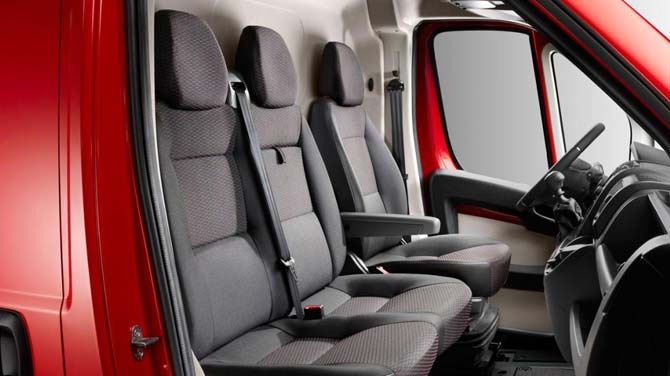 More Features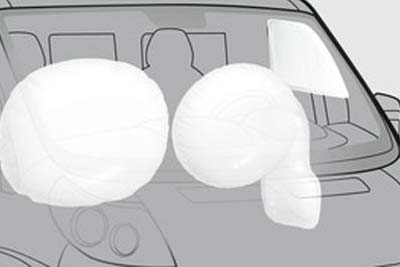 Standard Safety Measures
Each amazing Citroen Relay model is equipped as standard with a driver's side airbag, as well as hill-start assist, stability control, emergency braking, and ABS. Larger models benefit from Lane Departure Warning.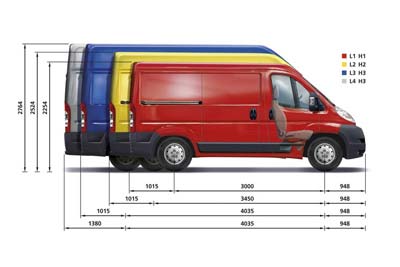 Great Drive Experience
The Relay may be large, but it's short turning circle, light steering, and excellent side and front visibility make it a joy to drive, particularly with the adjustable steering rack and incredible start/stop energy-saving functions.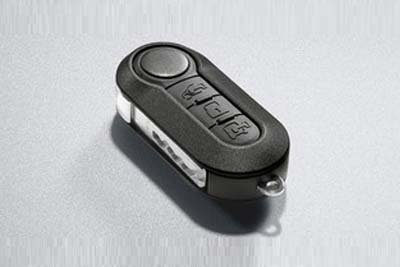 Central Locking Solutions
As standard, all Citroen Relay vans come with Selective Central Locking, allowing you to lock specific areas in the van for practicality and safety. The system can be accessed easily and quickly through the Citroen key fob.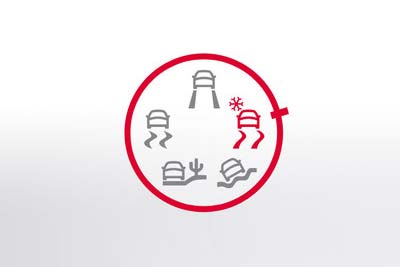 Intelligent Traction Control Options
Select the Intelligent Traction Control optional system for fantastic road grip no matter the conditions. This driver-selectable solution is an advanced system for anti-skidding, and ideal traction on any surface.
For the trim levels, colours and more detailed info, download or order the Relay brochure
Get a Brochure
Why not take a test drive in the Relay? It is the best way to know if the car is for you.
Book a Test Drive
If you need to know more info about the Citroen Relay - Just ask, we are here to help.
Ask a Question
View all of our Relay offers by clicking the link below.
Latest Offers

The Citroen Relay is one of the most spacious vans in its class, offering impressive payloads, low running costs and lots of equipment
Auto Express

The Relay offers a pleasant driving environment with good forward visibility
Parkers

If you thought all vans were the same, perhaps it's time you concentrated on how the manufacturers differentiate their products. On that score, Citroen's done a great job with the Relay
RAC
New Citroen Vans Relay
Call us Today
01494 440204
Contact us